You'll never have to wonder what to bring to a potluck again with these recipes! These potluck ideas are all delicious, easy to make, and perfect for a crowd. Whether you're assigned to make a salad, side dish, dessert, appetizer, or something else, these potluck dishes are sure to impress!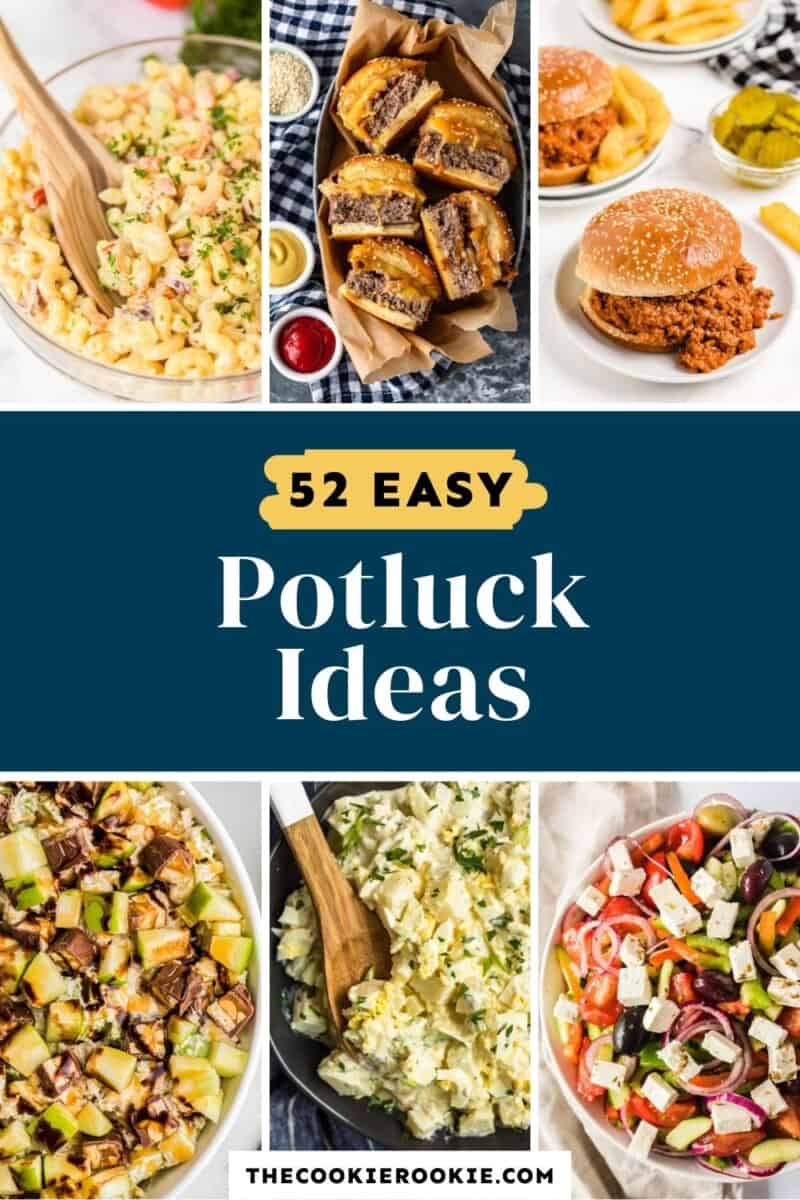 Easy Potluck Ideas
Potlucks are one of my favorite types of parties. There's lots of good food to go around, they're usually a little more casual, and they're just a plain old good time.
But when it comes time to decide what to bring to a potluck…that's when the stress hits. Choosing between side dishes, appetizers, desserts, salads, and main dishes, there are almost TOO many food options.
So when trying to decide, I like to keep 3 rules in mind for potluck dishes: it has to be quick and easy to make, it has to be something you can make ahead of time to transport, and it has to be delicious!
The potluck ideas and recipes shared here all fit the bill, so you know they'll be perfect for the occasion, no matter what you take. Just pick your favorites and enjoy!
What is a potluck?
A potluck is a party or gathering where guests bring a dish to share. So instead of relying on one person (the host) to provide all of the food, everyone brings something. Guests might be assigned a food category (salads, sides, desserts, appetizers, etc.), or maybe it's a free-for-all where you can bring whatever you want. These parties are popular in the summertime with BBQs and cookouts, at work gatherings, or even for holiday feasts.
This list of potluck ideas is filled with delicious dishes, so you'll be prepared for the next party!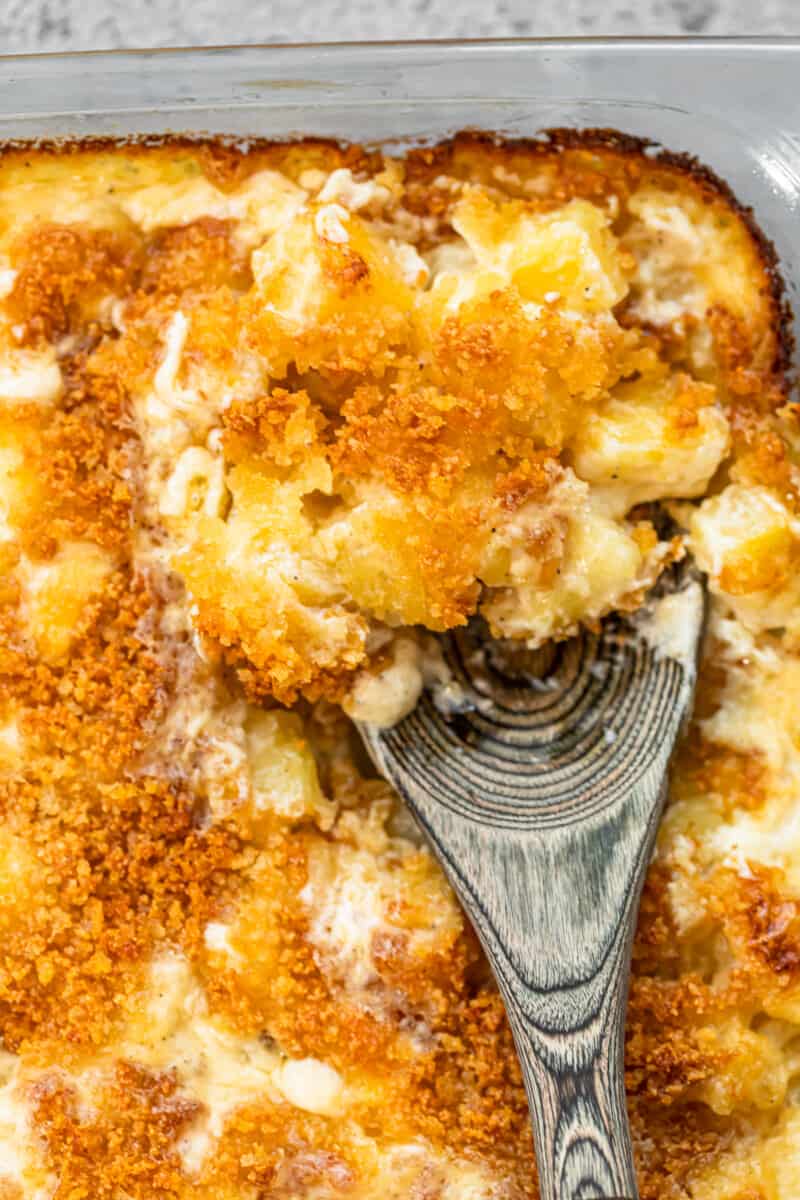 Best Potluck Side Dishes
Sides are a must for any potluck party! You can make all kinds of foods, add it to the table, and guests will grab what they like. Bring things like potato salad or coleslaw for summer potlucks, breads, veggies, or casseroles for any time.
Creamy Coleslaw: Coleslaw is the best summer potluck dish because it goes so well with burgers, hot dogs, BBQ, and other cookout favorites.
BBQ Baked Beans: This recipe makes a huge batch of hearty, flavorful baked beans.
Loaded Mashed Potato Casserole: Make this side dish ahead of time, then reheat to serve. It feeds a crowd, and it's filled with lots of good stuff!
Cornbread: I love bringing this buttery cornbread to parties, because it's easy to store and transport. Plus, everyone always devours it!
Broccoli Rice Casserole: Here's another easy casserole idea for potlucks. This can be made ahead of time too!
Potato Salad: This recipe makes a large batch so it's great for a crowd of people. Just keep it in the fridge until you're ready to go!
Parmesan Creamed Potatoes: Rich, creamy, cheesy potatoes topped with breadcrumbs. This dish is great for holiday potlucks, like Christmas or Thanksgiving!
Buttermilk Spoon Bread: This dish is so warm, soft, and delectable! It's easy to spoon onto your plate along with all the other dishes.
Sheet Pan Scalloped Potatoes: This sheet pan recipe is ideal for parties! It's so delicious and easy to transport to the party.
Baked Mac and Cheese: Make two different flavors of mac and cheese in one casserole dish! This reheats so well, and everyone will love it.
Find more ideas from this list of BBQ side dishes! Any of these recipes will be perfect for summer potlucks!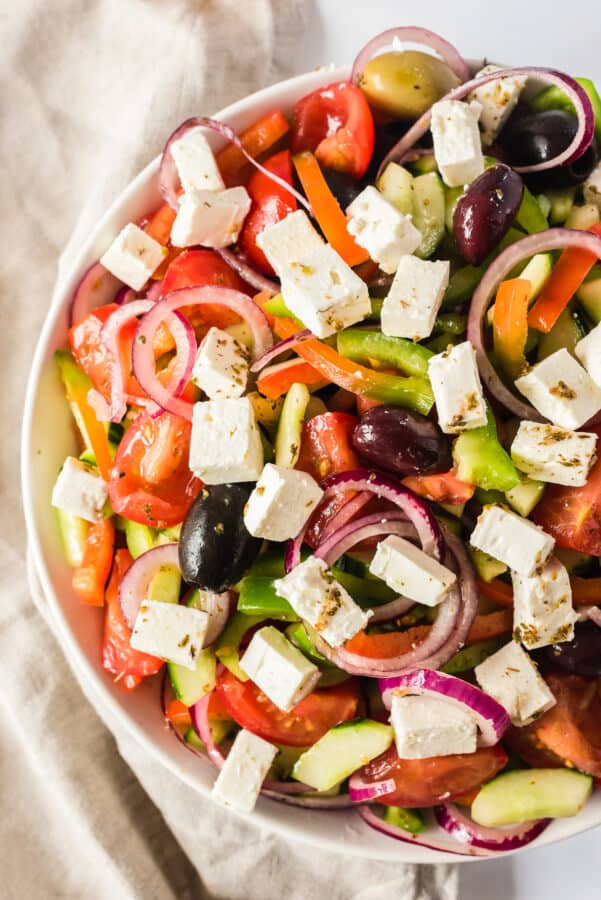 Salads to Take to a Potluck
Salads are the perfect thing to bring to potlucks because they're really easy to prepare, store, and transport. Whether you choose a traditional, healthy salad, or something a little more fun (like pasta salad), it'll make a great addition.
Classic Pasta Salad: This Italian pasta salad is filled with yummy ingredients, it's simple to put together, and it's great served cold/chilled.
Confetti Corn Salad: Black beans, corn, tomatoes, and feta are combined in 5 minutes, then just refrigerate and serve. Easy!
Traditional Greek Salad: Bring something that's healthy, but still extra delicious! This salad is filled with olives, feta, tomatoes, cucumber, onion, and more. Double/triple the recipe as needed.
Grape Salad: This dish is creamy and sweet, and it feeds a lot of people. It's super easy to make ahead of time, and it's ideal for summertime or holidays.
Macaroni Salad: Macaroni salad is so easy to make, and it turns out perfectly creamy and tasty! It's definitely a crowd-pleaser, certainly one of our favorite potluck ideas.
Ranch Chicken Pasta Salad: This is another easy pasta salad that will be right at home at any cookout, BBQ, or potluck. It's filled with chicken, black beans, cheese, and so much more.
Quinoa Salad: This dish is filled with so many tasty ingredients, like tomatoes, onion, chickpeas, and avocado. You can make it ahead of time and serve cold/room temperature.
Zesty Panzanella Salad: This light and healthy dish is quick to make, colorful, and just feels so summery thanks to the lemon vinaigrette. It's a great potluck salad!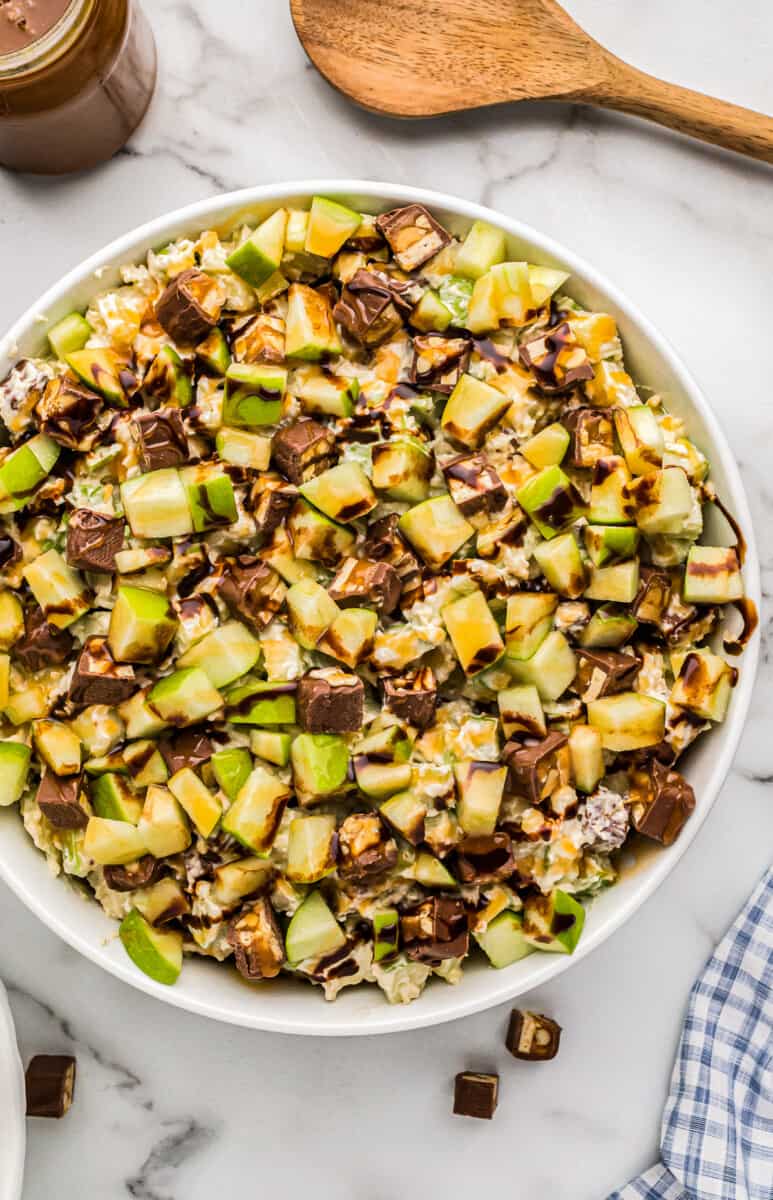 Easy Potluck Desserts
Everyone is going to have their eye on the dessert table! Since people might not be eating dessert all at the same time, having easy to serve, large batch foods is ideal! Think cookies, brownies and dessert bars, or a sheet cake. Nothing fussy here.
Brownie M&M Cookies: These are made with boxed brownie mix, so they're easy to throw together. And everyone will love the rich chocolate mixed with crunchy M&Ms!
Snickers Apple Salad: This dessert is so unique! It's sweet, colorful, and it feeds a crowd. This will definitely impress at your next potluck party.
Chocolate Fudge: Fudge is a no-hassle dessert, and it's always a crowd favorite. You can make a huge batch days before, so it's ready to go.
Texas Sheet Cake: This sheet cake recipe is simple but delicious! It's the easiest type of cake to make, and it's so moist and chocolatey.
Brown Butter Chocolate Chip Cookies: Nobody will be disappointed with a classic! Make this large-batch cookie recipe, and you'll have your potluck dessert sorted.
Triple Berry Tiramisu: This is such a beautiful potluck dessert idea. It's filled with fruit, it's colorful, and it's refreshingly tasty. It's perfect for summertime cookouts, 4th of July, and warm weather parties.
Banana Pudding Poke Cake: This cake is so light and fluffy! Poke cakes are a great dessert to bring to parties. It's bright, fun, and so yummy.
Classic Lemon Bars: Dessert bars are a great dish to make because you can make a lot without a lot of stress. Then you can slice them up as you please to distribute!
Chocolate Rice Krispies: These chocolate filled treats don't require any baking! And they're so sweet and delicious, everyone will be grabbing for one.
Headed to a holiday potluck? Bring any of these festive Christmas cookies for a treat!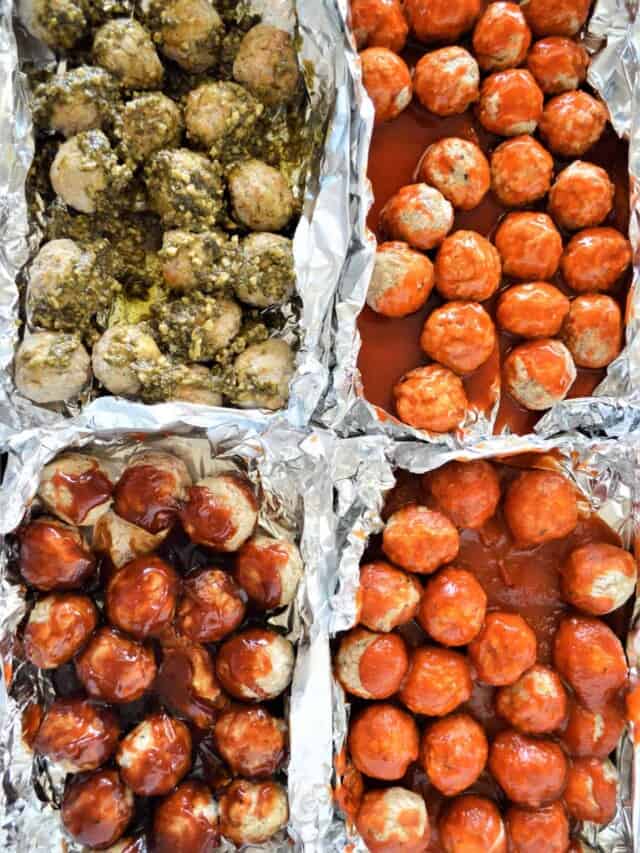 Potluck Appetizers
Dips, wings, and all kinds of finger foods are the perfect thing to bring to the party. These appetizers are easy to serve to crowds of people, and they're absolutely delicious.
Sheet Pan Party Meatballs: This is the BEST appetizer for potlucks. You can make a lot of meatballs, all different flavors, all in one pan, and bring them with you. Easy!
Crockpot Sausage Cream Cheese Dip: This is my favorite dip for parties, because it's only 3 ingredients, it's tasty, and it makes a large amount. 
Crab Rangoon: This is such a fun appetizer idea for potlucks! They're like crunchy, cream cheese filled bites. You can make enough for everyone, and they're easy to eat and share.
Crockpot Little Smokies: Make a large batch of these BBQ-covered little smokies with just a few ingredients. 
Taco Dip: This is always a hit at potlucks and parties! It's so quick to make, and it's so delicious.
Chicken Lettuce Wraps: This dish is a healthy idea that everyone will love. Make a big batch of the ground chicken, keep it in the fridge, then bring it with some lettuce to serve.
Jalapeno Popper Deviled Eggs: Make these deviled eggs (filled with bacon, jalapeno, and cheese) ahead of time, and take them to the potluck to share. They're so easy and delicious.
Crockpot Buffalo Wings: I love bringing chicken wings to potlucks, and this is such an easy way to make them!
BBQ Chex Mix: This homemade snack mix is infused with some sweet and smoky flavors! You can easily make as much as you need well ahead of time, and it's easy to bring with you.
Beef Sheet Pan Nachos: Make a whole tray of nachos in one sheet pan! These are topped with beef, jalapenos, olives, cheese, onions, and more.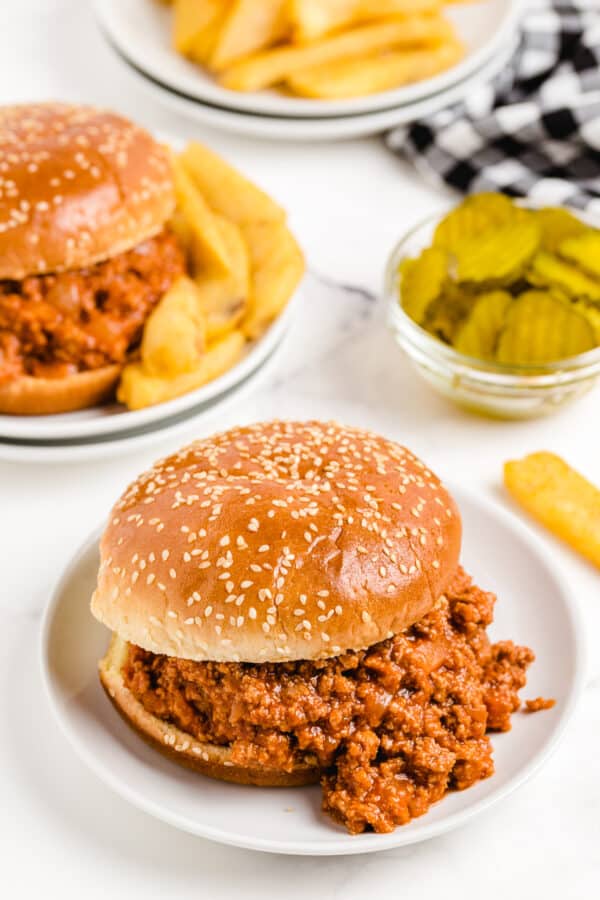 Last-Minute Potluck Ideas
If you need a dish to bring to the party that will be super quick and easy, these are the recipes for you! Sometimes you just forget to cook or don't have time to make a big batch, but you can still bring something delicious to share. These recipes won't take more than 30 minutes!
Chicken Salad Sandwiches: It takes maybe 10 minutes to throw the ingredients together, and you're done! Bring bread or croissants to make sandwiches.
Grilled Peach Salad: This is the perfect healthy idea for summer potlucks! It's easy to toss a salad together, and you can easily make a larger batch with more fruit.
Air Fryer Egg Salad: You only need a few ingredients and less than 30 minutes to throw this egg salad together. 
Turkey Sloppy Joes: Want to make something hearty, fast? These sloppy joes just require a few ingredients, and you can easily double/triple the recipe.
Queso Blanco with Chorizo: This tasty dip only takes about 15 minutes to make, and it makes a pretty large batch. Just combine everything in a skillet, then warm it up when you arrive.
15 Minute Macaroni and Cheese: Double the recipe and make a quick batch of mac and cheese. Everyone will love this classic dish!
Cheesy Broccoli Salad: Skip the cooking and bring this veggie-filled salad to the party!
Instant Pot Mashed Potatoes: This is a great side dish for potlucks, and it's easy to make with an Instant Pot. You can keep them warm then serve from the same pot, too.
Sour Cream and Onion Dip: This is such an easy dip to make, with only 4 ingredients. No cooking required, and you can keep it in the fridge until ready to serve. Increase the recipe as much as needed to make a larger amount.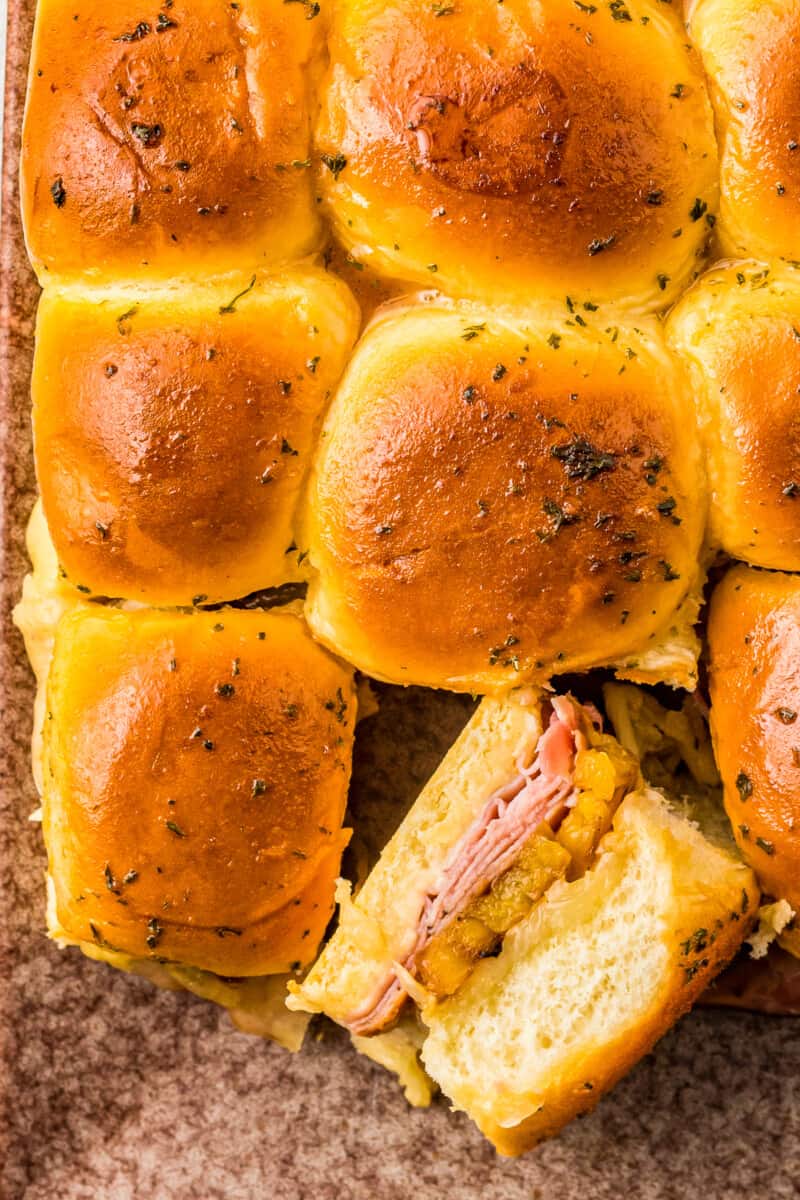 Best Potluck Food
Bring something heartier to serve as a main dish, like sandwiches or sliders, chili, or a batch of beef or pork to serve with sides.
Cheeseburger Sliders: Make cheeseburgers in a hand-held size that are easy to share! This is much easier than making burgers, and they're so delicious.
Smoked Pulled Pork: This BBQ pork makes great sandwiches, or it can be plated up with sides, salads, and appetizers. It's worth the effort if you want a dish to impress at BBQs and cookouts.
Instant Pot Shredded Chicken: Make a large batch of shredded chicken, and season or add any sauces you like. People can add it to their plates, or it can be used to make tacos or sandwiches.
Hawaiian Ham and Cheese Sliders: Sliders are such a great potluck food idea because you can make a lot, and let people grab as many as they want. And these are particularly delicious with ham, cheese, and pineapple!
World's Best Chili: Bring a batch of the world's best chili, and your dish will be the star of the potluck! 
Mexican Chicken Salad: This is such a great idea for potluck lunches at work. It's quick to make, and it's so good for sandwiches.
Instant Pot Crack Chicken: This creamy, flavorful shredded chicken is hard to resist! It's quick and easy to make, and easy to bring with you. Serve it on buns or dig right in with a fork.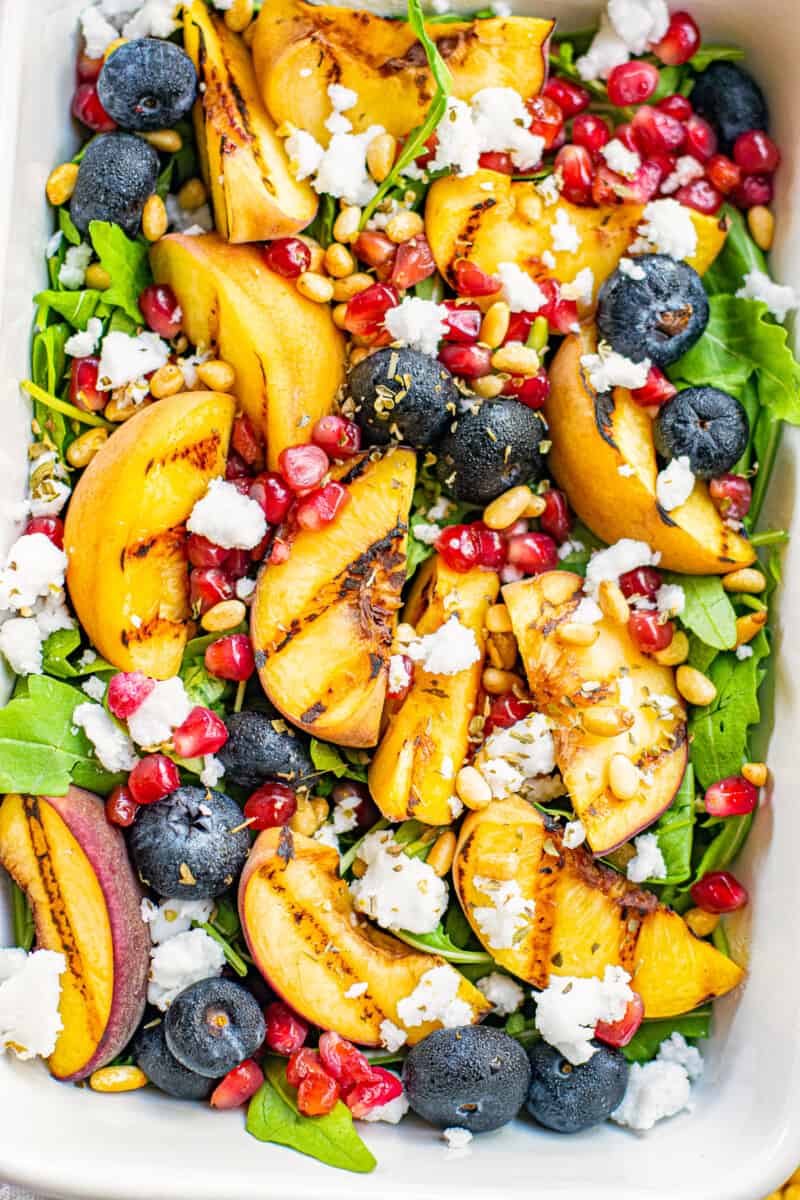 What dish do I bring to a potluck, BBQ, or cookout?
People often worry about what to bring to a potluck, but you can typically bring any kind of food: side dishes, desserts, appetizers and party foods, salads, sandwiches, drinks, etc. Check with your host to see what they need, or if they have a signup sheet. You might be assigned a food category, and then you can choose anything you like.
Look for recipes that are easy to make ahead of time, that make large batches, and that are easy to store and transport. Try casseroles, sheet pan and slow cooker recipes, dishes that don't require cooking (or very minimal cooking), or recipes with just a few ingredients.
Any of these dishes will make great potluck ideas that everyone is sure to love!
More Party Food Ideas
Still looking for more food ideas? Whether you're hosting (or attending) a BBQ, cookout, summer or holiday party, there are plenty more recipes for you to try.
Recipe Roundups