The Big Mac is an iconic burger and arguably McDonald's most famous creation, which is uniform around the world.
Whether you're a fan of the pickles or not, it's their signature dish, but vegans have understandably been missing out on the fast food delight—until now.
A budding vegan chef, called Ben Rebuck, has shared a recipe for a meat-and-dairy-free version of the burger, and it's causing a stir online.
Rebuck, from the U.K., shared a tutorial to his TikTok page, Ben's Vegan Kitchen, on Tuesday. He simply captioned the clip, viewed thousands of times: "Easy vegan Big Mac."
Rebuck chatted to Newsweek, and explained that he became vegan four years ago, but missed a cheeky McDonald's.
He said: "I used to love McDonald's but their vegan options are so bad. It's much easier to make them at home and it just takes a little bit of ingenuity to get that same flavor at home. It was my first attempt. I knew it'd be easy as the sauce is the only tricky bit—but that was quite simple to veganize."
In the clip, the 30-year-old talked followers through the recipe, saying: "I'm going to show you how easy it is to make a vegan Big Mac. So I've got the sauce. You want to chop a gherkin and some onion, vegan mayo, mustard, paprika, some white wine vinegar, mix it all together and there it is. That's your Big Mac sauce.
"Honestly the rest is just assembling it. I'm using these meatless farm burgers, little salt and pepper, cook them until they're done. Some vegan cheese, throw a bit of water on there to help them melt. Assemble it together. Honestly this tastes like the real thing. Toast your buns if you want, I'm not about that life. Banging, enjoy."
As he chats to the camera he spreads his DIY sauce and onions on the bottom bun, before popping the cheesy patty on top, then adding pickles.
Rebuck adds a middle slice of bread, before repeating the process, but adding lettuce instead of onions. The end result resembles the famous Big Mac, but some weren't convinced.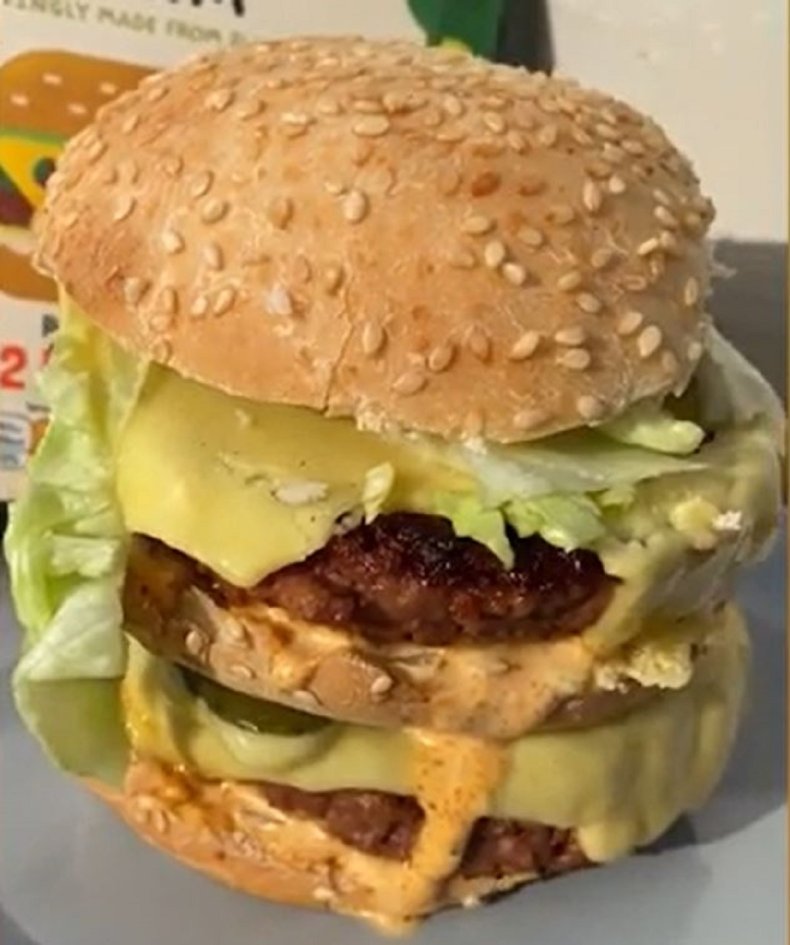 Commenting online, Sophie Griffiths wrote: "'Tastes just like the real thing' ok we will eat it but don't lie though lmao."
John Rayne thought: "I would be willing to bet that this doesn't taste like a Big Mac."
While Danceandlift said: "You lost me at not about toasting those buns."
Rebuck, who described himself as a "guy with a phone and a passion to show people that it's easy to ditch meat," acknowledged not everyone was on board with the alternative.
"Taste is 10/10—there's loads of haters out there especially on TikTok. The sauce is better than McDonald's one as it has more flavor. Next time though I'd make smaller patty's and have it actually possible to bite," he added.
But some did vow to try it out for themselves, with Sophie Jeffrey writing: "Ok but can you tell McDonald's please?"
"That sauce looks way better that Maccies tbh," Laurie Brown commented.
And Jessica Kate asked: "It's huge! What cheese do you use? Looks like it melts really well!"
The McDonald's website lists the official ingredients for the 550-calorie burger, which comprises of the bun, beef patty, lettuce, Big Mac sauce, American cheese, pickle slices and onions.
It says: "Mouthwatering perfection starts with two 100% pure beef patties and Big Mac sauce sandwiched between a sesame seed bun. It's topped off with pickles, crisp shredded lettuce, finely chopped onion and American cheese for a 100% beef burger with a taste like no other. It contains no artificial flavors, preservatives or added colors from artificial sources. Our pickle contains an artificial preservative, so skip it if you like."